Bill Stroman has been blacksmithing, metalworking and machining for many years in southern Los Angeles County. Retired as a metallurgist, he specializes in making custom knives, swords and guns authentic to places and times in history. His work is for sale at the Southern California Renaissance Faire in April, Viking meets, knife shows, retail or by commission. See the photo section for many examples. He also builds and sells custom propane forges that can run 6-8 hours off a 20lb. cylinder of propane. Same as used on a propane BBQ.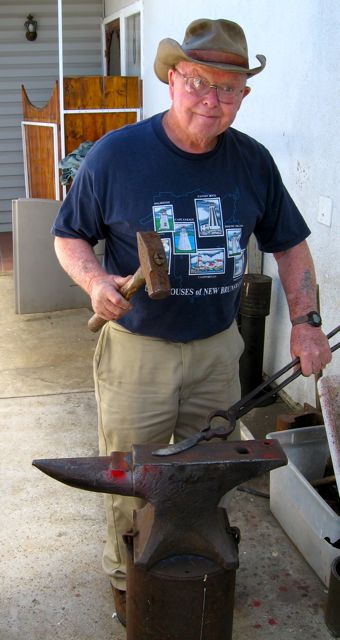 Bill has taught and demonstrated blacksmithing at many events. See him making a knife from a railroad spike here. He also handcrafts the leatherwork for sheaths, scabbards and holsters. He has varied interest besides blacksmithing, including building wooden boats (including kayaks and small sailboats), bicycles, small steam engines — whatever catches his interests. 
He has made Hollywood props working for Tony Swaton at Sword and the Stone  which is known as "the armourer for Hollywood".
See Bill at the Southern California Renaissance Pleasure Faire in April.